Recently I had a chance to talk to one of the great folks from
Little Adventures
, a company started by two moms who had realized that there was a need for good quality dress up clothes at affordable prices people could afford. The rest as they say is history!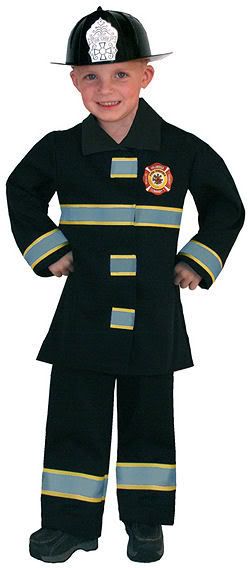 Little Adventures makes some of the best costumes I've seen in a long time so it only made sense for me to do a review for their little
Fireman
dress up right? I am so glad I did and I can only say that the quality of it is so awesome! Made of quality fabrics this dress up set came with a durable plastic hat, pants with elastic waistband, and a fireman's coat with shiny stripes and badge on it.
I also like how they use wide Velcro strips instead of little buttons or ties that are harder for little hands to fasten. MonkeyBoy can put his outfit on and take it off anytime he wants without having to wait for Mommy to help him. All of their sets are like this and that includes the ones for the little girl's as well.
Each dress up is completely machine washable and dryable. Trust me, these are not going to fall apart just because you wash them. MonkeyBoy's fireman set has already been washed twice and it isn't coming apart anytime soon.
Little Adventures
makes capes, princess dress ups, accessories, fireman sets, and many many more! I would highly recommend contacting one of their
online retailers
(
or maybe consider becoming one yourself
) and getting one of their great dress up sets for your little boy or girl to use as a Halloween costume and then an ever after dress up.
Oh wait, you noticed the word "
giveaway
" in the title didn't you? You didn't think I was just posting a review here on LWH without reason did you?
Well since you patiently read the whole review (
you did RIGHT
??)
AND
Halloween is just around the corner, how would you like the fact that
Little Adventures
also gave me one of their
Deluxe Cinderella Dress Ups
(
picture on the right
)
plus
the
Choker and Headband set
(
below on the left
) for one of my lucky readers to win?!
The Deluxe Cinderella set is a little girl's dream come true when it comes to a Halloween costume AND Princess dress up! There are no itchy fabrics or underskirts to bother your sweety, each dress comes with completely finished seams and hems, and as I said before the whole thing is machine washable.
This giveaway will be for ONE Cinderella and Accessory Set size
5-7 years
but you will have a chance on two of my blogs to win it.
So would you like to know how one of you lucky folks can win this set for your little princess? Well I am going to give you up to THREE chances here to win until
October 10th
when I will be randomly choosing a winner and then mailing the costume out Priority Mail -
1) Leave a comment on this post telling me what your favorite all time dress up set/costume was as a kid.
2) You don't need to be a blogger to enter, but if you are blog about the contest, and link to this contest post and
Little Adventures
. Then email me at
sonacreidhereviewsATgmailDOTcom
with the URL link to your post. The contest must be in it's own post not attached to the end of one.
3) Write about this contest in a MySpace bulletin telling all your friends about this contest then email me your username there to
sonacreidhereviewsATgmailDOTcom
Sorry but this contest is only open to residents of the United States (unless my Canadian readers aren't worried about getting it by Halloween- let me know).
So what are you waiting for? Don't think you can hide the Cinderella pictures from your little princess by passing up my blog. Just won't happen and she will be mad at you for not trying to win! I'll tell on you, yes I will!
psstt head over to
Life With Heathens
for three more chances to win this!!
PLEASE LEAVE ME A WAY TO CONTACT YOU!! IF YOU DO NOT LEAVE AN EMAIL OR LINK TO YOUR BLOG I CAN NOT CONTACT YOU IF YOU WIN! (MD and AW ladies just leaving your username there is fine)